2016 Reports
Mercian League on Saturday 9th July
During an evening of exciting races and thrilling swimming, achieved an overall 4th position with 186 points,with Orion Swimming Club Winning with 225 points.
The gala got underway with a brilliant First position in the Girls Open Individual Medley by Rebecca Morgan.  First places were also secured for the Club by Charles Martin (boys10U backstroke), Sam Millington Marsh (boys U14 Butterfly and Breaststroke), Katie Wright (girls U14 Breaststroke), Jack Corston (boys Open Backstroke and Freestyle), and the boys U14 Medley Relay team (Luke Brayford –  Backstroke, Oliver Smith Davies –Breaststroke, Sam Millington Marsh – Butterfly and Charles Martin – Freestyle).
Second places were  achieved by the boys U10 Freestyle Relay team (Emerson Love, Jack Evans, Toby Lloyd and Charles Martin), the boys Open Medley Relay team (Jack Corston – Backstroke, Kieran Martin – Breaststroke, Jordan Angell – Butterfly, Jos Cole- Freestyle), Rebecca Morgan (girls Open Butterfly and Backstroke), Emerson Love (boys U10 Breaststroke), Rosie Corston (girls U14 Freestyle), Oliver Smith Davies (boys U14 Freestyle), Kieran Martin (boys Open Breaststroke), Charles Martin (boys U10 Butterfly), boys U10 Medley Relay team (Jack Evans – Backstroke, Toby Lloyd – Breaststroke, Charles Martin – Butterfly, Will George – Freestyle), the girls U14 Medley Relay Team (Alex Chubb – Backstroke, Katie Wright – Breaststroke, Rosie Corston – Butterfly, Beth George – Freestyle), and both the girls and boys Open Freestyle Relay Teams (Rebecca Morgan, Alice Martin, Holly Page and Isla Meredith, and Jos Cole, Kieran Martin, Jordan Angell and Jack Corston).
Third places were recorded by Isla Meredith (girls Open Breaststroke and Freestyle), the Girls and  Boys U14 Freestyle Relay teams (Rosie Corston, Holly Page, Alex Chubb, Beth George, Sam Millington Marsh, Luke Brayford, Will George and Oliver Smith Davies) the Girls Open Medley Relay Team ( Rebecca Morgan – backstroke, Katie Wright – Breaststroke, Isla Meredith – Butterfly and Alice Martin – Freestyle), Luke Brayford – boys U14 Backstroke, boys Open Butterfly – Jordan Angell,  girls U12 Backstroke – Eve Carnell, boys U12 Backstroke – Charles Martin (swimming up from U10),  girls U10 Butterfly – Tess Tinsley, Girls U12 Freestyle – Sarah Gray,
Although the final score showed the Club in 4th position overall, the gap is shortening between the totals earned by Ludlow and  overall points earned by the winning clubs, and this is a very encouraging result, with all the swimmers proving their determination to succeed and showing really positive moves in the right direction.
Head Coach Sandra Burgess wished to give a special mention to Tilly Weaver, who was swimming in her first gala, and a thank you to the swimmers who returned from University to support their Club (Isla Meredith, Jordan Angell and Kieran Martin).
Team List ; Open – Rebecca Morgan, Jack Corston, Isla Meredith, Alice Martin, Jos Cole, George Jennings, Kieran Martin, Jordan Angell  – Under 14 Sam Millington Marsh, Oliver Smith Davies, Luke Brayford, Holly Page, Katie Wright, Alex Chubb, Rosie Corston, Beth George – Under 12s Ella Davies, Eve Carnell, Sarah Gray, Hannah Wright – Under 10s – Tess Tinsley, Faye Carnell, Tilly Weaver, Macie Speke, Charles Martin, Emerson Love, Will George, Jack Evans, Toby Lloyd.
The Organisers and Officials of the Club would also like to give thanks to all the volunteers who attend galas and training sessions throughout the year, Our next set of Galas will start in early October competing in the National Arena League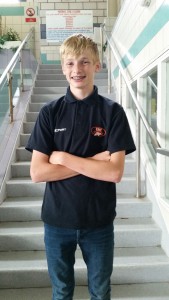 Sam Millington-Marsh
Shropshire Development Meet Day 2
A fabulous second day of the meet, resulted in three Gold medals, one for Tess Tinsley in a thrilling final of the 10 years 100m breaststroke and another two for Jack Corston in the 100 metre fly -a departure from his usual freestyle and backstroke races, with great results ( a new direction, Jack?) and the 100m freestyle.
Luke Brayford, Jack Corston and Sam Millington Marsh all made the final of the 100 metres freestyle (14 years and above) and Lotti Sargeant made the final of the under 12 breaststroke.
Imogen Ingle and Molly Key both had a really good show in their 100 breaststroke events, achieving personal best times, as did Toby Payton in his first competition,swimming 100 freestyle.
Rosie Corston also made the final of the girls (14 years) 100 backstroke.
Times:
Girls 100m backstroke
Molly Key – 1.43 (pb 147.62)
Tess Tinsley – 1.42 (pb 145.63)
Rosie Corston 125.70 finalist
Boys 100m freestyle
Adam Kimberley- 122.95 (pb 135.88) Charles Martin – 120.41 (pb 128.46) finalist Luke Brayford – 121.84 Sam Millington Marsh – 108.24 finalist Jack Corston- 57.44 Gold medalist Toby Payton – 133.78 (pb 142.76)
Boys 200m backstroke
Adam Kimberley – 331.35( pb 335.99)
Girls 200 IM
Tess Tinsley- 334.30 ( pb401.0)
Girls 100m breaststroke
Tess Tinsley – 156.64 (pb 210.01) finalist and Gold medalist ( to be confirmed) Imogen Ingle – time 230.61 ( first time entrant) Molly Key – 149.35 ( pb 158.87) first reserve finalist Lotti Sargeant – 148.72 finalist
Boys 100m fly
Jack Corston – 107.07. ( pb 109.50) Gold medalist
Girls 200 m freestyle
Tess Tinsley- 310.37 (pb 314.76)
Rosie Corston- 237.13 (  pb 239.13)
Boys 200 m breaststroke
Adam Kimberley – 351.66( pb 358.57)
Shropshire Development Meet Day 1
A brilliant and exciting first day was enjoyed during the Shropshire Development Meet at Wolverhampton central baths today.
New entrants to the gala circuit were Molly Key in the 12 year old section and Daisy Pitt in the 10 and under 100 freestyle event. Daisy achieved a personal best time of 201.05, a total of 7.05 seconds under her previous best time, and Molly narrowly missed a place in the 200 breaststroke final with a brilliant personal best time of 358.87, smashing her previous time of 4.08.04.
Finalists in the girls 100 m freestyle were Lotti Sargent (11 years) and Sarah Gray (12years), and also having a very good race in this section was Ella Davies.
Luke Brayford achieved a place in the boys 100m breaststroke final, achieving 4th place with a new pb of 141.91, as did Sam Millington Marsh in the boys 100 backstroke final (14years).
Rosie Corston achieved a new personal best in the girls 100 freestyle, smashing the 110 barrier with a 108.89 .
Charles Martin earned a well deserved Gold medal in an exciting boys 100m backstroke final (126.35 – previous pb 130.16).
Jack Corston also achieved a fantastic Gold in the 17 and over 100 backstroke, then 2 further Silver medals in the 200 freestyle and 200 IM. ( times; 105.24 BS, 211.25 200 FR, 227.82 200 IM) Oliver Morgan earned Silver medals in the 100 fly (13 years – time 301.72)also 200 IM. ( time 252.19) and 200 freestyle ( time 225.07).
Finally, Rebecca Morgan achieved 2 Gold medals ( girls 15 years 200 backstroke  time 237.93 and 100 fly 113.44 ) and a Silver in 100 M freestyle( 104.92).
Mercia League – Gala 2  Snowdome Tamworth 11th June 2016
A great team from Ludlow Swimming Club attended the second round of the Mercia League galas, achieving some really promising results.
Rebecca Morgan and Jack Corston kicked off proceedings with fourth place in their 100M individual medley events, achieving 117.04 and 1.08.20 seconds, respectively. Jack went on to win his 100M Open Freestyle event with a time of 58.51  and his 100M Open Backstroke with a time of 1.05.64
First place in the boys 10 and under 50 M Backstroke, went to Charles Martin with a time of 40.76 and the Club also recorded a second place in the boys 12 and under 100M Backstroke, thanks to Jack Forrester, with a time of 1.21.60.
We went on to achieve 3rd and 4th placings in the majority of events, despite having only two boys and two girls in the Open category, and  meaning that under 14 age group members were swimming in races against much older competitors.
The teams comprised of :
Under 10s – Macie Speke, Tess Tinsley, Faye Carnell, Natalie Vlok, Charles Martin, Emerson Love, Will George, Toby Lloyd, Jack Evans
Under 12s – Eve Carnell, Olivia Smith, Lotti Sargeant, Sarah Gray, Kathryn Fish, Alexander Brown, Thomas Brown, Jack Forrester
Under 14s – Rosie Corston, Beth George, Holly Page, Charlie Brown, Sam Millington Marsh, Luke Brayford, Alex Smith
Open Swimmers – Rebecca Morgan, Alice Martin,  Jack Corston, Kieran Martin
Overall, the Club finished in fifth place, with a total of 139 points, climbing one place since the first round, so a pleasing result, and the team are looking forward to the final league event of the season in July
Mercian Swimming League R1
An enjoyable evening was spent at the first round of the Mercian Swimming League at Nuneatons Pingles leisure centre on Saturday 30th April, Swimming against some very large City clubs in Solihull,Leamington,Blythe,Warley and Orion
The older swimmers, as ever, put in a very good performance, in particular, Rebecca Morgan taking 2nd in the open free with a time of 1.05,42 and Jack Corston taking 1st place in the 100 free in a time of 57.19 and well deserve their appointments as Team Captains, inspiring the younger swimmers to aspire to excellence in their sport, as ever a big thankyou to our University swimmers of Kieran Martin, Jordan Angell and Isla Meredith for travelling lots of miles to attend
The team featured a number of "newbies" to the gala circuit, with Oona and Isaak Herbert, Charlotte Davies, Natalie Vlok, Toby Lloyd and Alexander Brown competing for the first time. The Club are extremely proud of their performances and, even more importantly, their maturity and excellent attitude during the event.
Heroes of the hour were Charles Martin, Emerson Love, Sarah Gray and Lotti Sargeant who all swam in older age group races, as well as their own, to cover gaps in the teams above them. This often meant these young swimmers entering more events than their much older counterparts and their commitment and stamina were commendable during the events. other great swims came from Sam Millington Marsh in the14u- 100 back and 100 breast and also Thomas Brown in the 12u-100 breast
Unfortunately, the team finished in sixth position with 104 points but everyone gave their very best efforts and can be proud of their achievements on the night.
Team members were ; under 10s Tess Tinsley, Oona Herbert, Charlotte Davies, Natalie Vlok, Toby Lloyd, Isaak Herbert, Charles Martin, Emerson Love ; Under 12s Olivia Smith, Sarah Gray, Lotti Sargeant, Ella Davies, Thomas Brown, Alexander Brown ; Under 14s Katie Wright, Holly Page, Sam Millington Marsh, Charlie Brown, Luke Brayford, Alex Smith ; Open Swimmers Isla Meredith, Sydnee Marsh, Natasha Lockett, Rebecca Morgan, Jordan Angell, Kieran Martin, Jos Cole, George Jennings, Jack Corston.
Sandra Burgess
Head Coach – Ludlow Swimming Club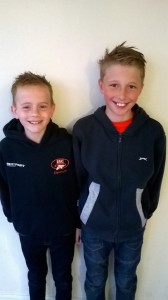 County Championships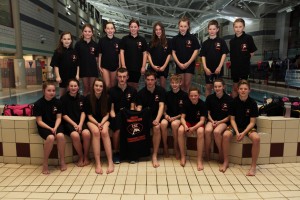 Officials in charge of the swimmers were Sandra Burgess (Head Coach) and Matthew Morgan (Team Manger).  Many Ludlow swimmers achieved stretching qualification times prior to the event, and, as a result, eighteen members of Ludlow represented their club.  (Swimmers were :- Oliver Morgan, Jack Corston, Tess Tinsley, Thomas Brown, Charlie Brown, Rebecca Morgan, Lotti Sargeant, Jack Forrester, Rosie Corston, Ella Davies, Sara Gray, Faye Carnell, Eve Carnell, Kathryn Fish, Olivia Smith, Charles Martin, Sam Millington-Marsh, George Jennings ).
Many of the swimmers achieved Personal Best times, a real achievement, given the size of the event and the pressure of performing, and they all behaved with maturity and were an asset to the club.  The atmosphere at the tournament was incredible, and the members rose to the occasion with their usual energy and cheerful enthusiasm.
Finalists in their events were ;  Thomas Brown – Age 11 (100M Freestyle, 100M Breaststroke,50 Fly, 50 Breaststroke), Rebecca Morgan – Age 15 (50M Fly, 100M Backstroke, 100M Fly, 50M Freestyle ), Jack Forrester – Age 12 (50M Backstroke, 100M Freestyle, 100M Backstroke, 50M Breaststroke) , Charles Martin – Age 10 (50M Freestyle, 50M Backstroke). Sam Millington Marsh – Age 15 (50M Backstroke), Oliver Morgan – Age 13 (200M Backstroke, 50M Freestyle, 50M Backstroke, 50M Fly, 100M Backstroke).  All results have been posted to the Ludlow Swimming Club Facebook Page by Matt.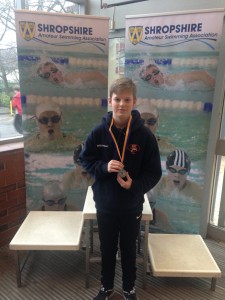 Oliver Morgan was the star of the event for Ludlow, taking home Gold in 50M Backstroke, Gold in 100M Backstroke, and a further Silver in 200M Backstroke, achieving Midland County Qualifying times.  This is a real achievement, making him the best swimmer in the County for two events.
However, the Club is immensely proud of all the swimmers who attended and look forward to further success in years to come, given the number of members qualifying for the County Championships and finals this year.
Well Done All
2015 Reports
Arena Gala – Droitwich – 12 December 2015
The Club attended the last round of the National Arena Swimming League on Saturday 12 December, achieving first placings in boys'10-11 backstroke (Jack Forrester)), girls' 13 Years Breaststroke (Katie Wright), Boys' 13 Years backstroke (Oliver Morgan) Womens' open Freestyle (Isla Meredith) and Mens' open Freestyle (Jack Corston).
The girls' Under 15 relay team achieved a commendable third place in each of their races (freestyle and medley) and also swam up to help the Open Ladies to equal that third placing in the Medley and final Freestyle events  Other placings of which we can be proud are; Jack Corston (Open 200M Medley – 2nd place), Oliver Morgan ( boys' 13 and Under Butterfly- 2nd place), together with 3rd places in  Girls 15 and under Breaststroke (Sydnee Marsh), Open Breaststroke (Kieran Martin), Boys' 15 and under Freestyle (George Jennings) , Girls' 15 and Under Butterfly (Rebecca Morgan) and Ladies' Open 200M Medley race (Isla Meredith).
Head Coach , Sandra Burgess commented:
"Our team have worked hard during this quarter to increase both their stamina and efficiency, and a particular mention should be made to those swimmers who undertook races outside their comfort zones to help achieve success for their club, even though they might have been disappointed with the end result.  Sam Millington Marsh, in particular, stepped in to swim 100 Metres Butterfly for the first time.
Our 9-11 team have also made great progress, and their efforts will I am sure, pay off over the
next12 months.  Our team are, in general, far smaller than the teams which they race, as most clubs are larger in number than Ludlow, and we have swimmers who are only just within the 9-11 age group, whereas our opponents tend to use swimmers in the age 11 bracket.  We are therefore very proud of Charles Martin, Thomas Brown, Will George, Jack Forrester, Lotti Sargeant, Eve Carnell, Sarah Gray and Hannah Wright and know they will go from strength to strength in years to come."
The Club are now working towards the County Championships at the end of February where we expect to have a strong group of swimmers attending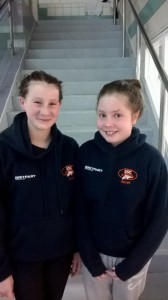 Hereford Gala Saturday 21st November
A small group of swimmers from Ludlow Swimming Club attended the Open Gala at Hereford, with good results.
Oliver Morgan, Rebecca Morgan, Rosie Corston and Jack Corston all put in a great deal of effort before the event, training hard to beat their previous personal best times.
Oliver achieved Gold Medal in his age group for 50 M Back Crawl, A personal best of 34.50 seconds. He also achieved a massive 6 seconds away from his previous Personal Best in the 200M Medley, with a time of 2minutes 55.70 seconds
Jack achieved 5th Back Crawl 50M (31.51 seconds) and 6th place Free Style 200M (2mins 0833) in the Open section, with a first place in his Freestyle 200M heat, where he swam 6 seconds quicker than his previous Personal Best.
Rebecca also achieved Personal Best times in 50M Fly (34.54, Silver medal for age group), and 50M Back crawl (35.22, Gold Medal).
Rosie achieved a 39.97 second time in her 50M Back Crawl race and 32.43 second time in her 50M Freestyle, a Personal Best in both instances.
"I am so proud of the swimmers who attended. They trained with dedication and maturity to achieve their goals, and swam really well on the day", said their Coach, Sandra Burgess."We are now looking forward to building on this result in the County Trials in February."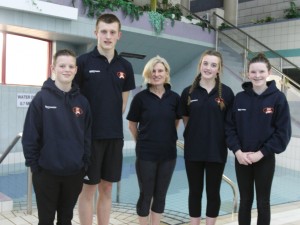 National Arena  League Gala Round 2 Saturday 14th November At Snowdome Centre in Tamworth
the latest gala of the National Arena Swimming League season took place, at the Snowdome Centre in Tamworth, with Ludlow swimming club entering a team of 10 – 24 year olds.
It was a very exciting event, and the Ludlow swimmers really pulled out all stops to secure 4th place scoring 183 points just missing out on second by 16 points, swimming against teams from Telford, Bromsgrove, Camp Hill and Tamworth.  Absence due to illness and other engagements meant that many of the members had to  swim against athletes much older, so this result was particularly pleasing.
Head Coach, Sandra Burgess said,  "It was great to see so many swimmers returning from University to support their team, and the younger swimmers really did us proud. Swimming for the first time were Sarah Gray, Lotti Sargent and Kaitlyn Orme,  I am sure we can build on this positive result to improve our rating in the League".
Particular mention should be made to Rebecca Morgan, who, at only 14, achieved second place in the Ladies' 200M  Individual Medley race, along with a brilliant first in 15 and under Butterfly in a time of 1:19.04.
Other swimmers who achieved first place were Oliver Morgan ( 13 and Under Backstroke 1:14.30 and 100 Freestyle), Katie Wright (13 and Under Breaststroke 1:29.98), Kieran Martin ( Open Breaststroke 1:19.67), Jack Corston  (Men's 200M  Individual Medley 2:26.98 and 100M Freestyle 57:53), Jack Forrester (Under 11 Backstroke) and George Jennings (15 and Under Backstroke 1:17.22).
Well done to the girls 15 and under team of Alice Martin, Rebecca Morgan, Beth George and Tash Lockett who completed 13 races between them including all the open races.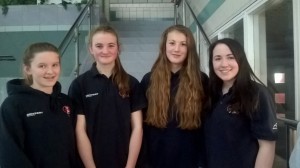 National Arena  League Gala Round 1  Saturday 8th October at Stafford Leisure Centre
The Club attended the season's first National Arena Swimming League Gala on Saturday
8th October at Stafford Leisure Centre Competing against Swadlincote from Derbyshire,Burntwood,Telford Aqua, Perry Beeches and Fox Hollies
All the swimmers gave their best effort to the event, and despite a disappointing final result, the Club performed well in many of the races, giving the new Coach, Sandra Burgess, a good insight into the strengths to build upon, and areas for improvement.
Many of the Open events were undertaken by members who made a special effort to return from University in order to support their Club, and showed the level of commitment and camaraderie amongst the swimmers.  Our thanks in this go to Isla Meredith, Kieran Martin and Jordan Angell, who all put in a great performance on the night. Also a special mention to Rosalie Vlok and Ella Davies who swam for the first time for the club
Jack Corston and Oliver Morgan from the Open and 13 and under teams respectively, both gained second place in 100 free and 100 back.
Pictured are Jack Forrester, from the Boys' 9-11 team, and Eve Carnell from the Girls' 9-11 team.
.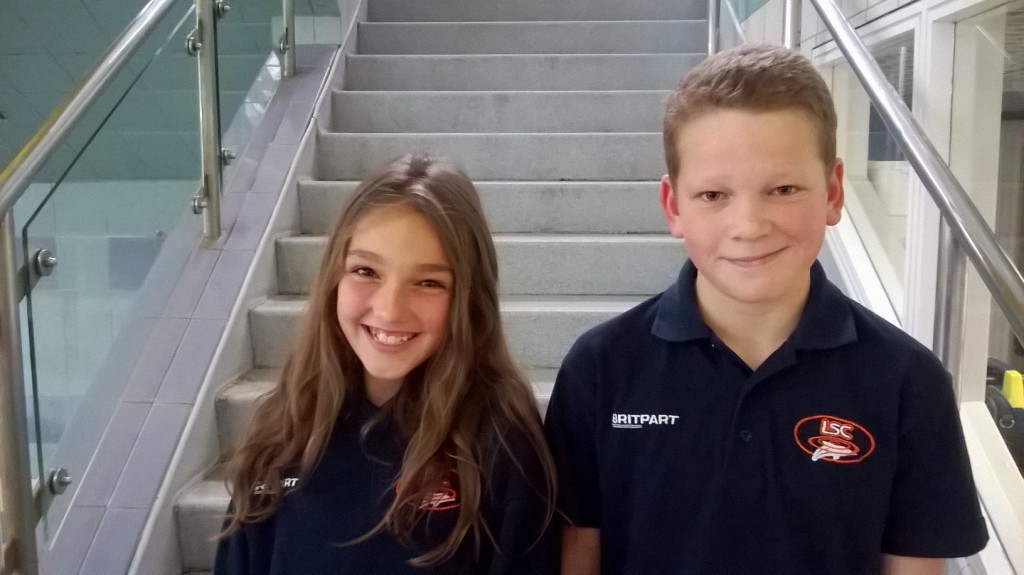 Mercian League
Round 3
The Snowdome Tamsworth
Ludlow Swimming Club competed in the third and final round of the Mercian Summer League and did so with such enthusiasm and passion. It was held at Tamworth Snowdome on Saturday 11th July.
Head coach Adam Fear said, "the squad have trained hard for this and deserve to see the results, of which I am proud to say they did. They swam with grit and determination, this showed immediately with swimmers finishing in better positions and improving upon the technical aspects of their race."
This competition was to be Adam's last, due to him moving on in both his career and personal life relocating to Brighton and Hove. He goes on to say, "the swimmers have been a pleasure to coach over the past few years and have really shown their maturity and progressions in their swimming careers, this competition has finished them on a high, in my eyes, proving to me that they are capable of bigger and better things. I feel my time has been well spent and I would do it all again in an instant. This club has been a big part of my life as both swimmer and coach and as my time draws to an end Ludlow Swimming Club will always have a place in my heart."
Swimmers made their competitive debuts in this competition over the last few rounds and have given themselves and the club positive points to move forwards and progress. Many of the club swimmers didn't only swim in their own age groups but older categories and still racked up the points adding to the total for each round.
A massive congratulations and thanks to those who swam, keep swimming, aim high and don't give up.
The Club have appointed Sandra Burgess as our new head coach she comes with lots of experience and enthusiasm having taught swimming for the last ten years,  she aims to bring new  ideas and training methods to the club, These are very exciting times for the Club.
Mercian League
Round 2
Cheslyn Hay
On Saturday 13th June, Ludlow Swimming Club attended the second round in the Mercian summer league in Cheslyn Hay. They came up agains some good teams such as, Coventry, Northgate, Boldmere, Solihull and Orion, this was to be a tough challenge for Ludlow.
Ludlow's team spirit started high with good points being scored by both open swimmers in the individual medley, next up were the youngsters who showed great determination and swam their best brining back points. Some of these young swimmers were at their first gala and so didn't know what to expect, Scarlet Bailey and older sisters Holly and Alice were amongst these beginners and proved their rights to be in the squad by swimming fantastically well.
Going into the individual swims Ludlow showed vast improvement on the last round with only 2 swimmers being disqualified, proving that their technical training has paid off and the swimmers are putting the effort in.
Head coach Adam Fear said, "our older swimmers are a true inspiration to the young swimmers in the club, showing great team spirit helping and giving advice to the youngsters, and with the more experienced swimmers coming second and third in their races it reinforced the messages they were giving."
Kieran Martin swam very well in his individual 100m breaststroke coming second and only 2 seconds off his personal best in a 1.19.07. Along with Jack Corston coming second in 100m backstroke in 1.07.44 which is a new personal best, and third in 100m freestyle in another new personal best time of 58.94 which is a fantastic achievement as Jack has been sitting his GCSE exams.
Amongst the swimmers that have swam well in their own age groups Ludlow had swimmers competing in higher age groups, Tess Tinsley, Thomas Brown, Charlie Brown, Archie Neaves, Rebecca Morgan, Rosie Corston and Beth George were amongst the athletes who had this challenging task. Coach Adam added, "Ludlow is a club that is improving quickly, but we have a young team so it puts a lot of pressure upon the swimmers when they have to swim against others that are 2,3,4 or more years older than them. With that said Ludlow's youth do themselves, the parents and all of the coaching team proud, I'm humbled to be apart of this ever growing club."
With the next round just around the corner Ludlow will get back to training hard and look to improve again with their next performance in July.
Mercian League
Round 1
Nuneaton Pingles Swimming Pool
On Saturday 25th April, Ludlow swimming club competed in the first round of the Mercian summer league, this was held at Nuneaton and Ludlow were the hosts of this event. The evening went off to a good start with both open age swimmers Isla Meredith and Jordan Angel swam well in the 100m individual medley. This gave the younger swimmers something to aspire to and gives them a good boost going into their relays.
Some fantastic swims in the relays showing that Ludlow work well as a team, still with room to improve on some technical elements of the swim. Tess Tinsley, Faye Carnell, Albie Sewell Price and Charles Martin were swimming in a competitive gala for the first time and they rose to the occasion with no issues in their events and showing that they are ready for future events.
Unfortunately due to some illnesses on the night, some events had to be changed putting pressure onto other swimmers. However these swimmers handled it very well and got on with the task in hand with no issues at all, even with Alice Martin, Ffion Gilbert and Natasha Dalziel having to do some events that weren't at the top of their favourites list.
As a team Ludlow always come together and support each other, Kieran Martin, Jordan Angel, Jack Corston and many more of our older swimmers lead the team in cheering for each other and the younger swimmers followed their lead creating an inspiring environment to race in.
Some fantastic times were produced and points gained with some swimmers hitting new personal bet times, Jack Corston swam a new personal best time in his 100m freestyle and was over the moon with his performance much like head coach Adam Fear, who said, "its amazing to see the youngsters response when the older swimmers hit personal best times and finish in the top 2 or 3 in their races, it gives the whole team something to aim for and drives them to do the same".
Ludlow are now working towards the next round of this league which will take place on 13th June 2015 where they will aim to score more points to take them further up the league table.
2014 Reports
Arena report December 2014
Ok so what a weekend it's been.
I'd like to start by saying what a pleasure it has been over the last 2 years to be able to call myself the head coach of a great club. There's still work to be done but for now you can all relax over Christmas and come back because 2015 is our year, not to step forwards but to leap forwards, in our performance abilities.
So last night was the 3rd round of arena league where we started with a few swimmers missing, this meant that the swimmers we had had to step up to the mark. And that is exactly what they did with many of our swimmers doing more races and swimming up into older age groups. We gained some good points with outstanding swims from everyone both individually and in the relays.
There is one swimmer who I have been amazed with over the last 3 galas and this swimmer has not only swam in the 11under group but also in the 13u, 15u and as of last night he swam in the open relay at the end of the gala, and may I say he did it with style by overtaking the lane next to us giving us a better shot in the last legs of the race. This swimmer is Oliver Morgan and we should all be proud of his abilities and effort he puts in to ludlow swimming club. That said I am very proud of everyone who has taken part in this series of galas. Take pride in what you do it is always appreciated and noticed throughout the coaching team!
And finally we have today's presentation and Christmas party which was a great success and that is thanks to the clubs committee and parents of swimmers for organising it. So thanks for anyone involved it was a great night. And thanks for you al turning up and making it worth while… It's events like this that make us all realise how many people we are influencing in the pool and the support we have around us. That said if you have friends, brothers, sisters, cousins, nieces, nephews or anyone else that would like to join the club please get them in contact with us and we will help facilitate their needs and improve club numbers to make the next few years even more successful.
Thanks to everyone who has helped poolside your a great asset to the club. And again just thanks to everyone who is involved in the club no matter how big or small the part you play.
Have a lovely christmas see you all in the new year!!!
Adam
Arena report November 2014
Ludlow swimming club participated in round two of the National Arena League last weekend at Tamworth. Ludlow were competing against Telford, Blythe, Tamworth and Perry Beeches.
The evenings events went well and as always these young swimmers swam with gusto and enthusiasm. Many of our younger swimmers are at the lower age in their age category and often are swimming in the age group above, this never deters them from doing there absolute best. Swimming requires a great deal of commitment and in our very busy lives and living so rurally this commitment is multiplied, so a great many thanks to our swimmers and their families, our committee and team of voluntaries who give up their time to teach and officiate.
Our open swimmers from university once again travelled to support the club and did so with some great results. Guy Woodhouse wasn't fazed by swimming the 100 Fly and achieved a PB.
Oliver Morgan swam well under pressure swimming in 3 individual events and 2 relays, sister Rebecca as always did some super swimming. The girls 15 year old team were just beaten in the medley relay at the start of the evening and were determined to win the Front crawl relay later in the evening, which they did with a 2 second advantage. Halfway through the events a consecutive triple win by Oliver Morgan, Ffion Gilbert and Jack Corston boosted the team. The whole team were proud of Jack Corston who PB in the 100 F/C with a time of 59.68.
The evening ended with some fantastic swimming in the open freestyle relays with both teams placing second.With 5 disqualifications the team finished 3rd without these we would have been placed 2nd but it was still another great show for Ludlow Swimming Club and we look forward to the third and final round in December.
On the 14th December we are holding our Christmas Party at Ludlow Rugby club from 4pm this will include the presentation of medals from the club championships.
For more info on Ludlow Swimming Club Visit our website www.ludlowsc.org uk or find us on Facebook.
2013 Reports
Hereford open 2013
Ludlow swimming club competed at the Hereford open even which was held over the weekend of 16th and 17th November, this was a good chance for the swimmers to improve on their personal best times and get some up to date times to work on through their training.
The weekends competition got off to a great start with many of the swimmers smashing their personal best times. Some of these performances came from Oliver Morgan, Rebecca Morgan, Ffion Gilbert and Jack Corston. All of the swimmers were happy with their performances and showed their pride and confidence as they continued to improve throughout the day with the afternoon additions which included Imogen and Peirce Bowsher, who achieved good times in their races.
After the first day and through to the end of the second day Oliver Morgan was in the running for the top boy in his age group even after only swimming the Saturday events, this showed he had performed extremely well to give himself maximum points.
Sunday again started with a positive vibe and the swimmers really supported each other and gave themselves the boost to keep them fighting for more personal best times. Jordan Angel was another swimmer to stand out hitting his time on the 100m butterfly and 50m freestyle. He was happy with his times along with the head coach Adam who said, "every swimmer who has swam this weekend has shown their true potential and these times will give us a great platform for us to work off aiming for the Shropshire county championships in February 2014."
3rd rounds Arena Reditch league report 
The final round of this years national arena league was upon Ludlow swimming club and they were in good spirit. This was held at Reditch swimming pool on Saturday 14th December, and Ludlow were up agains some tough teams.
The evening started off great with some gutsy swims from the open swimmers 200m individual medley, Heulwen Gilbert and head coach Adam Fear, bringing the first points of the night. Onto the relays and with some of our younger swimmers such as, Oliver Morgan, Peirce Bowsher, Oliver Smith-Davies, we still managed to keep a good position in the competition.
The individual races still had swimmers smashing personal best times and proving to themselves that the training has been worth it. Jack Corston managed yet more personal best times in the 100m freestyle and backstroke lifting his spirits into the relays, this gives the whole team a boost knowing that each individual swimmer is proud of what they are achieving.
The points race was beginning to get close with nail biting performances all the way till the end of the night, this is where the open freestyle cannon, consisting of 6 swimmers for both male and female, became more and more vital to add to the points. The girls up first with a brilliant performance where, yet again, we had younger swimmers like Rebecca Morgan swimming up into the open category. Finally finishing with the boys cannon relay team, going in with some excellent times from Kieran Martin, Jack Corston, Jordan Angel we were in a good position to compete for first place. Eddie Thomas up next to bring the team closer to victory with 2 more swims left to come from Christopher Bayliss and Adam Fear, and with the whole team lifting the spirits through the roof we finished in a comfortable first place.
Head coach Adam said, " I am very proud of the swimmers and especially their attitude towards tonight's performance and with the support from all friends and family we have achieved our best result."
All of the swimmers left the building knowing they have achieved as much as they could and are all looking forwards to future competitions.
9th November Arena Gala Round 2 at Matlock
Ludlow swimming club took part in their second round of the national arena league, held at Arc Leisure, Matlock in Derbyshire, on Saturday 9th November 2013. It was a tough draw and the team knew that they would have to work hard to gain points, they were competing against two out of the top three in the league Hinkley from Leicestershire and Radford from Nottinghamshire never the less the team were in their usual high spirits and swam with enthusiasm and gusto.
The team had great swims all around, with younger swimmers again were having to swimming into higher age groups bring back points for the team. Some of these swimmers included, Oliver Morgan, Peirce Bowsher, Charlie Brown, Rebecca Morgan and Sydnee Marsh. In addition to these swimmers we had to call upon another swimmer to join us at the last minute, Lauren Wright, she stepped up to the mark and swam incredibly with personal best times, this gave the team the boost they needed in the 13 and under age group.
Chloe Evans swam a great race in the 15 and under 100m butterfly, not her favourite event, where she hit a personal best and came 4th.
William Prince also swam outstanding in his races coming back with personal bests and a huge smile on his face, feeling proud for himself and his team.
Finally to touch upon the team spirit again, this helped massively in the team's performance, giving them a rush of energy and adrenaline, aiding them in quality swims through to the bitter end of the competition. Another great show for Ludlow Swimming Club and we look forward to the third and final round in December.
Also a big thank you to our Coaches, Time Keepers,  Judges and Team Managers  who give up their time voluntary ,Also to all the parents for getting the swimmers to Matlock either on the team coach or by car.

12th October Arena Gala Round 1 at Tamworth
Ludlow swimming club have just competed in the first round of the National Arena League, which took place at The Snowdome Tamworth on Saturday 12th October. Swimmers aged 9 to 21 competed for the club who finish in 4th place. Coaches Adam Fear and Annette Gilbert said, "we are very impressed with the swimmers performances all of whom either achieved new PB times or hit them, however we do need to tighten up on our turns and starts before the next round."
Adam went on to say, "the younger swimmers have really stepped up to the mark with some strong swims, some of which were in the age group above their own."
The pressure was on for Oliver Morgan swimming not only in his own 11U age group, but in the 13u and swimming up into the 15U relay team, and Adam acknowledged this by saying, "Oliver has impressed me with his team spirit and performed well under pressure, achieving numerous personal best times."
Jack Corston achieved a great personal best time in his 100m freestyle, triggering the competition between himself and team mate Ffion Gilbert. Coach Adam said, "This healthy competition will help the two swimmers, going into the next round and the up and coming Hereford open in mid November, to achieve better times and to keep them focused." Also a special mention to Walter Meredith the 18 yr old who travelled from Bath University to compete with the team, his presence helped the men's open team to compete at a high level and almost win the last race of the night, the cannon, finishing a close second
New to this gala the club have introduced the player of the tournament where all the swimmers vote for their best swimmer using the Teamer app, with Oliver Morgan and Pierce Bowsher tying for first place.
Overall team spirit and performances were great and the whole club is looking forward to the next round coming up in November.