Shropshire development Meet 1st & 2nd July
Shropshire development Meet 1st & 2nd July.
See here  for list of all confirmed entries PAGE 1 Development Meet and PAGE 2 Development Meet.
Warm up times on the print outs are shown as 8.30 and 1.30 – but please note that the afternoon warm up time is to be confirmed – I have to put times into sports systems to produce the reports but will finalise the afternoon timings nearer the gala depending on numbers at that time.
If you have any withdrawals please let me know as soon as possible, as the sessions are very full at the moment.
if you need any more info please see myself or you line coach
Thanks Sandra
SUMMER B-B-Q & LANE AWARDS FUN DAY




Swim With A Star 2017



To Download a Booking Form Please Click HERE 
Mercian Summer League Round 2
Round 2 of the Mercian Summer League is Saturday 10/06/2017  it's at Pingles Leisure Centre post code CV11 4LX Warmup 6:00p.m start 6:30p.m

New Club Championship Records 2017
Thanks to Pat Bayliss for putting this together…
please see this LINK well done all!!!
There are a few changes taking place!!
Pat Bayliss has decided to stand down as our Membership Secretary. Pat has been involved with the club for over 15 years and her knowledge of how the Club runs is invaluable, she will be sorely missed by everyone – our thanks go to Pat for all her relentless work, time and effort given to the club during this time. Andrew and Lisa Gray have the unenviable task of filling Pats shoes and there will be a transition period during March/April – our thanks go to Andrew and Lisa for taking this role on.
Hannah Davies has also decided to step down as our club Secretary and the club would like to thank Hannah very much for her 2 years' service as Secretary. Moving forward, Sally Sergeant is taking over the role as Club Secretary and we welcome her to the committee.
I will also be standing down as Chair at the clubs AGM in May, I have been involved with the club for over 11 years, the last 5 years as chairperson and have enjoyed every minute of my time in this position. We have seen a lot of changes going from a voluntary Head Coach to a paid position, current swimmer numbers at about 130 and rising and the club financially sound.
If you would like to know about my role please get in touch as the club cannot function without a Chairperson. We also have 2 spare places on our committee if you would like to be involved.
And finally…………..
Our Swimmers Annual Club membership is increasing from 01 January this year. This is mainly due to the ASA increasing their fees that we as an ASA affiliated club have to pay and this is the first increase that we have imposed membership fees in over 6 years.
Annual membership will now be £27.50 per swimmer (an increase from £25)
There will be NO increase in your monthly payments.
Thank you for your continued support
Steve Martin, Chairperson
Easyfundraising.org.uk
Easy ways to raise money for the club… Check it out here THIS IS A MUST DO FOR THE CLUB PLEASE FOLLOW THE LINK AND WATCH THE VIDEO IT'S EASY!!!!!
Future Gala Dates 2016/2017
ATTENTION ALL SWIMMERS & PARENTS
Can we please ask you all to make a note of the future gala dates for this year and early next year.
These are the National / Regional Leagues by which all clubs are judged.
As one of the smaller clubs swimming in our division we do need to put out our very best team at all times so, if selected, we would ask you to make every effort to swim unless injured.
National Arena League – Venues: t.b.c.
Saturday 8th October 2016 (from 6pm)
Saturday 12th November 2016 (from 6pm)
Saturday 10th December 2016 (from 6pm)
Shropshire County Championships – Venue: Wolverhampton Baths
Saturday & Sunday 18th & 19th February 2017 (all day)
Saturday & Sunday 25th & 26th February 2017 (all day)
Mercian Summer League – Venues: t.b.c.
Saturday 29th April 2017 (from 6pm)
Saturday 10th June 2017 (from 6pm)
Saturday 8th July 2017 (from 6pm) 
SPONSORED SWIM
We recently held a sponsored swim for Little Hearts Matter and club funds and raised just over £2500 in the picture is Sam Adams representing Little Hearts receiving a cheque for £1500 from the Club Swimmers
Alex Chubb,Katie Wright,Lottie Pearce Bourne,Lucinda Evans,Annie Pearce Bourne,Georgia Vincent missing from photo is Sarah Gray. these swimmers received a gift from the club for raising a lot of Money.Annie Pearce Bourne also Received a club Hoodie for raising the most Money
Thank you Everyone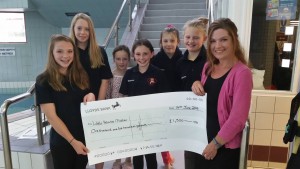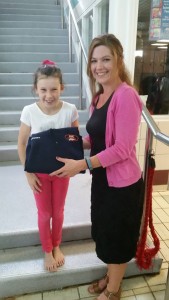 !!WE WANT YOU!!!
Volunteers wanted for committee members and poolside volunteers urgently to ensure succession at the club. Please get in contact with steve.martin@ludlowsc.org.uk.
Teacher Training
Ludlow Swimming Club have recently trained seven people on a level 1 swimming teacher course with 5 people doing the training at Shrewsbury and 2 at Kingswinford, they will now be a valuable part of our teaching team, this has been a large expense costing over £2700, the club have been very lucky in getting funding/grants to help with the cost a big thankyou to William Hackett Chains, Ludlow Rotary, Harry Tuffins and Energize, so a big well done to Alison Martin,Jack Corston,Liz Tinsley,Tere Smith, Eddie Parkinson,Ian Davies and Suzie Perry.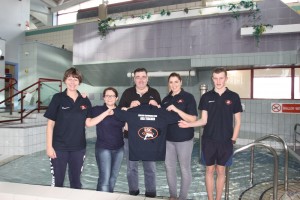 Swim 21 Accredited
Well done all that was involved we are now Swim 21 Accredited. 
New Members Taster Sessions
We offer sessions to improve your child's ability, stamina and fitness, from learning to swim to competitive swimming.
If you join your first 3 sessions are free.
We are a voluntary run club using ASA qualified coaches and teachers
If you are interested in attending these sessions please email
steve.martin@ludlowsc.org.uk or liz.brown@ludlowsc.org.uk
Booking is necessary