Arena Gala – Droitwich – 12 December 2015
The Club attended the last round of the National Arena Swimming League on Saturday 12 December, achieving first placings in boys'10-11 backstroke (Jack Forrester) read more 
Teacher Training
Ludlow Swimming Club have recently trained seven people on a level 1 swimming teacher course with 5 people doing the training at Shrewsbury and 2 at Kingswinford, they will now be a valuable part of our teaching team, this has been a large expense costing over £2700, the club have been very lucky in getting funding/grants to help with the cost a big thankyou to William Hackett Chains, Ludlow Rotary, Harry Tuffins and Energize, so a big well done to Alison Martin,Jack Corston,Liz Tinsley,Tere Smith, Eddie Parkinson,Ian Davies and Suzie Perry.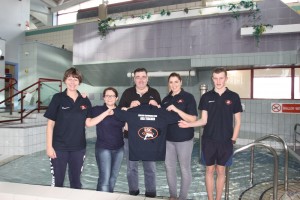 Hereford Open Meeting Report
A small group of swimmers from Ludlow Swimming Club attended the Open Gala at Hereford on Saturday 21st November, with good results. Read more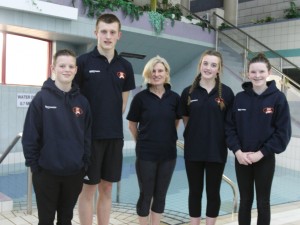 Shropshire County Championships 2016
The Shropshire County Age Group Championships are the most prestigious event in the Shropshire swimming calendar, allowing swimmers from all clubs to compete for the title of County Champion in their event. It is also a great chance to gain real race experience in a friendly environment, and gain qualifying times for even further events like the Midlands (regional) Championships. The Top 3 swimmers in each event get a medal to celebrate their achievement, and all swimmers are recognised for their participation. The event will be held over two weekends – 20th-21st February and 27th-28th February 2015 at Wolverhampton Central Baths.
This is a MUST do event, If you have a qualifying time you should be doing it!!! see HERE for more info
Arena league Second Round Report
On the Up
On Saturday 14th November, the latest gala of the National Arena Swimming League season took place, at the Snowdome Centre in Tamworth, with Ludlow swimming club entering a team of 10 – 24 year olds.
It was a very exciting event, and the Ludlow swimmers really pulled out all stops to secure 4th place scoring 183 points just missing out on second by 16 points… Full Report HERE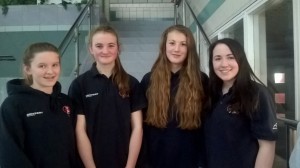 Swim 21 Accredited
Well done all that was involved we are now Swim 21 Accredited. 
Easyfundraising.org.uk
Easy ways to raise money for the club… Check it out here THIS IS A MUST DO FOR THE CLUB PLEASE FOLLOW THE LINK AND WATCH THE VIDEO IT'S EASY!!!!!
New Members Taster Sessions
We offer sessions to improve your child's ability, stamina and fitness, from learning to swim to competitive swimming.
If you join your first 3 sessions are free.
We are a voluntary run club using ASA qualified coaches and teachers
If you are interested in attending these sessions please email
steve.martin@ludlowsc.org.uk or liz.brown@ludlowsc.org.uk
Booking is necessary
!! WE WANT YOU !!
Volunteers wanted for committee members and poolside volunteers urgently to ensure succession at the club. Please get in contact with steve.martin@ludlowsc.org.uk.